You are here
Complete "Vachana Ramayanam" Sarga by Sarga  written by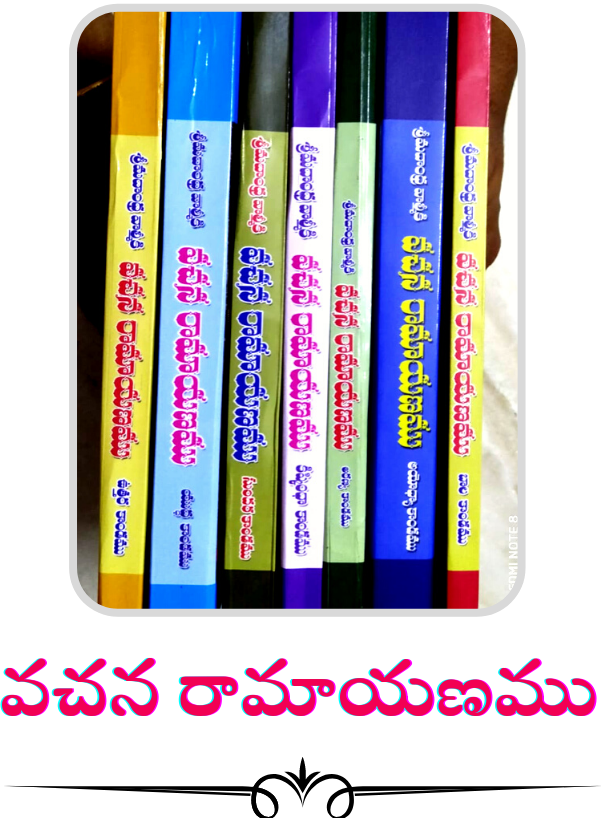 Smt. Srimattirumala P V Seetamma garu 
(Exclusively released by Pravachanam.com)
Thiruppavai Vaibhavam 2020
Thiruppavai Vaibhavam
 As we enter the auspicious month of Margazhi, we are delighted to celebrate Dhanrmasa vratam with daily live pravachanams on Thiruppavai vaibhavam in by Sriman U.Ve. Eyunni Singaraacharya Swami,  from Dec 15th , 2020 -(7.30 - 9.00 PM CST ) &  from Dec 16th, 2020-(7-00-8.30 AM IST).
---
HOW TO LISTEN ???
You can use any of the following methods from anywhere in the world.
Method-1: ZOOM
Step-1: Download ZOOM APP and click this below Link.
tiny.cc/sayrama
(Meeting id and password included in the link)
---
Method-2: Youtube (Subscribe to this channel to get notification of LIVE Pravachanam)
https://www.youtube.com/c/pravachanam
All recorded pravachanams are available with video in this

YOUTUBE

channel.
---
About Speaker: 
Name : E.A. Singaracharyulu
Parents : Smt. E. Seethamma (Mother), Sreeman E. Ranga Charya Swamy (Father)
Date of Birth : 05-6-1951
Educational Qualifications: M.A. Ph.D (Sanskrit), M.A. Telugu,  Sahitya Acharya
Professional Details :
J.L. in Sanskrit from 1977 to 1992,
Lecturer in Sahitya from 1992 to 2009,
Special Officer, Alwar Divya Prabanda Project, TTD, Tirupati from Feb-2009 to Feb-2012.
Religious Preceptors:
Mahavidwan, E. Sesha Singara Charya Swamy (Grand Father), Nyaya Vedanta Vidwan E. Ranga Charya Swamy (Father)
Titles Awarded :
Panditaratna, Vedantha Vachaspathi, Sathsampradaya Vidwanmani, Sathsampradayasudhambudhi
Honours Received:
1. 2004 - Honoured by Tirumala Chairtable Trust, Hyderabad at Ravindra Bharathi,
Hyderabad.
2. 2008 - Honoured by Sri Vaishnava Sangam, Hyderabad on the occasion of Ugadi.
3. 2009 - Honoured by Sriman Kovela Rangacharya Memorial Trust, Hanmakonda and given
the title "Pandita Ratna".
4. 2009 - Honoured at Vizianagaram on the occasion of Ubhaya Vedantha Sabha held in
Memory of Birthday Celebrations of Sriman Kandala Venkatacharya Swamy.
5. 2009 - Received the title "Vedanta Vachaspathi" from H.H. Tridandi Sri Krishna Yathindra
Ramanuja Jeeyar Swamy, Sri Geetha Ashramam, Karimnagar.
6. 2011 - Received the Honour of Gopala Desika Puraskaram from H.H. Tridandi Sri
Ramachandra Ramanuja Jeeyar Swamy, Bhimavaram.
7. 2012 - Honoured by Sri Vaishnava Sangham, Warangal with the title "Sathsampradaya Sudambhudhi".
Swami varu wrote so many books. The books list are given in the below link.
We are so fortunate to have him to deliver Pravachanam on Thiruppavai for us this year.
 
---
Introduction of Tiruppavai:
The Tiruppavai is a collection of thirty stanzas (paasuram) in Tamil Sung by Andal, incarnation of Sri Bhudevi, in praise of the God Tirumal or Vishnu during the month of Margazhi. It is part of Divya Prabandha, a work of the twelve Alvars, and is important in Tamil literature. The Priests in Vishnu temples chant these in Daily Aradhan everyday of the year. Margazhi month signifies end of Dakshinayana.
It always starts on December 16th or 15th every year. For all Devas, it signifies the beginning of the day. " Of all the months the month Ma:rga si:rsha is Me " declared Lord Krishna in Bhagavad Gita. This is a holy month. Whatever Divine activity that is taken up during this month will yield the best results. Goda, or Anda:l, a small 5 year old girl, conducted a vratham to marry Lord Krishna,during this month and was successful in her mission.
She sang the greatness of the Lord in 30 songs, a song a day and submitted the garland of 30 songs to Lord Krishna. Each song is called as Pa:vai in Tamil. The garland of these 30 songs is called as Thiruppa:vai where Thiru stands for 'Holy'and pAvai is a vratham, a penance or vow. Tiruppavai Vratam is the substance of WHOLE VEDA and whoever wish to enjoy the divine Experience, wish to pray for the welfare of the world, should take in part in this vratam get enlightened with the divine knowledge filled in these Pasurams.
---
లోకంలో వ్యక్తులు ఆశించే ఆయువు ఆరోగ్యం సంతానం సంపద పదవి బలగం వంటివి గొప్పవే...ఎప్పుడు?
 
అన్నిటికీ గొప్పదనాన్ని కలిగించే భగవత్ సంబంధం కలిగినప్పుడు..
 
అదే లేకుంటే..  పైవన్నీ ప్రతిబంధకాలై పతనం వైపు మనని నడిపిస్తాయి.
 
పై విషయాన్ని ఎరుగని కొందరు దైవానికి తమ జీవితంలో అప్రాధాన్యత ఇస్తారు.
 
శ్రీకృష్ణదేవరాయల వారు పైవన్నీ కలిగి ఉన్నారు. కానీ పైవన్నీ తరిగే సంపదలని ఎరిగి,   తరగని సంపద కూడా పొందాలని ఓ తల్లి చరిత్రను రచించారు. అది ఆముక్తమాల్యద అనే ఒక మహాకావ్యం అయ్యింది. ఆ  ఉదారచరితే మనని కని పెంచి పోషించే భూదేవి అంశ అయిన గోదమ్మ.
 
భగవంతుని ప్రేమించే వారిని ప్రేమించాలి. పూజించాలి. వారి మాటలు వినాలి. ఆచరించాలి. అప్పుడే జన్మకు నిండుదనం.
 
బ్యాంకులో 100000 రూపాయలు ఉంటే..  అన్ని "0" లకు ఆధారం ఆ ఒకటే. అది ఉంటే అవి పూర్ణం అవుతాయి. లేకుంటే శూన్యం అవుతాయి.
 
అమావాస్య నాటి చంద్రునివలె కాక, పున్నమినాటి చంద్రుని వలె మన ఉనికి, మనకు,ఈ సమాజానికి అందాన్ని తీసుకురావాలి. అంటే మనం తిరుప్పావై వినాలి.
 
కన్న తల్లి పలుకు.. కనుక మనని తప్పకుండా కాపాడుతుంది.
 
ఈ చక్కని అవకాశాన్ని వినియోగించుకుందాం. ఈ సంవత్సరం తిరుప్పావై ప్రవచనం విందాం..
---
✨FLASH NEWS on Thiruppavai 2020-2021✨
      https://youtu.be/jNMRMIjHm1I
---
We pray the SUPREME to give you Time and Health to attend such wonderful discourses and enlighten yourself.
Please share this info with your friends and families.